show less
show more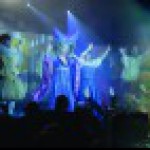 Public Group
active 11 months ago
Alpha Shows Discussion for teachers and parents regarding curriculum, the positive experiences youve had as a result of an Alpha show, experiences with Alpha, and other theatre-in-education related topics. Post your ideas on post-show activities here! The more we share, the more great ideas on how to integrate the themes, values and personal and spiritual development ideas contained in Alphas shows we can all use.
Please login
You need to be logged in to upload Media or to create Album.
Click HERE to login.
Media Gallery
Sorry !! There's no media found for the request !!