The best shows in schools. Guaranteed.*
Bigger, Louder, Better.
Proven to be loved by a broader age range of children. Suitable for Preps all the way up to Year 10.
Emotionally intense
Children today are overloaded. To engage, we create an intense and therefore memorable event. Watch the video
Full theatrical stories.
You are giving your students the best theatrical experience available in schools. See all shows
Real impact.
Unlike other companies who send shows into schools, we really do engage the children to a level that has an impact, not just so they have a great experience, but so everyone really does learn something new without even realising it. Really. You can also enhance the entire experience and understanding of the values by adding a workshop to your booking. Read about Workshops See below for some examples of how we engage children through the values in our shows.
World class standards of theatre – right in your school.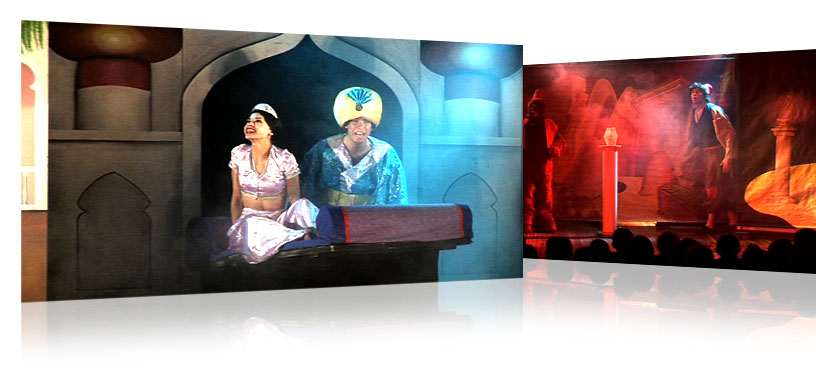 More Performers
Six cast members in movie-length, musical rock concerts.
Large, changing theatrical sets.
The shows look like any big stage show at a theatre – in your school.
Cheaper, easier and a pleasure to experience.
We'll spend time with your students.
We find that students are inspired to not only follow our example of living life to the full, having fun and being your best, but also to find new ways to be even more creative and passionate. Our shows have an impact far beyond the performance, and we always are amazed at the details of the event remembered by students when we return in subsequent years.
We'll do everything for you.
On the day, the cast of six performers will create theatre for you, before your very eyes. You will be amazed at how we are able to set up a full theatrical experience so quickly right in your school.
We'll give you support.
Even though our shows are priced competitively and only a fraction more than lower quality theatre-in-education incursions, we not only give you an amazing product on the day, we will be here to support you in making a decision, scheduling a date, and any other issues that arise for you.
We'll help you teach.
All shows come with extensive teacher support material, that you can use to make the most of the event. Packs that are applicable to both before and after the show are available on the website.
Flat rate Pricing
+ GST
If you are booking at this rate for only a few grade levels, you are encouraged to get other year levels on board to make up the numbers to at least 120, to save you money per student
For audiences less than 120 (max is 120)
Price for any school with low student numbers
Per Student Pricing
+ GST per student
Min audience 120 students (max 1000 per performance)
Discounts apply for whole school and annual bookings
call or email to get your price!
*If you don't agree that our shows are the best you can get in schools, we will give the show to you for free.