The best shows in schools. Guaranteed.*
Bigger, Louder, Better.
Proven to be loved by a broader age range of children. Suitable for Preps all the way up to Year 10. Download PDF Brochure
Emotionally intense
Children today are overloaded. To engage, we create a funny, fast-paced, dramatic and therefore memorable event. Watch the video
Full theatrical stories.
You are giving your students the best theatrical experience available in schools. See all shows
Real impact.
Unlike most shows in schools, Alpha's values-themed shows really do engage like a favorite comic book movie or sports game. Really. The fun jokes of a "Guardians of the Galaxy". The drama and ethical dilemmas of a "Superman". The life-changing character journeys of a binge-worthy series on Netflix. And the cheering and team support of a game of footy. This means they're learning stuff without realising it. Stuff that matters. Stuff that helps them live more empowered and happy lives. And because it's in the form of a live performance, it can be tailored to the audience to ensure it's really being embedded as life skills forever. See below for some examples of how we engage children through the values in our shows.
Alpha's shows fit together as one set of life changing social & emotional learning themes presented over a student's years at primary school and early high school
World class standards of theatre – right in your school.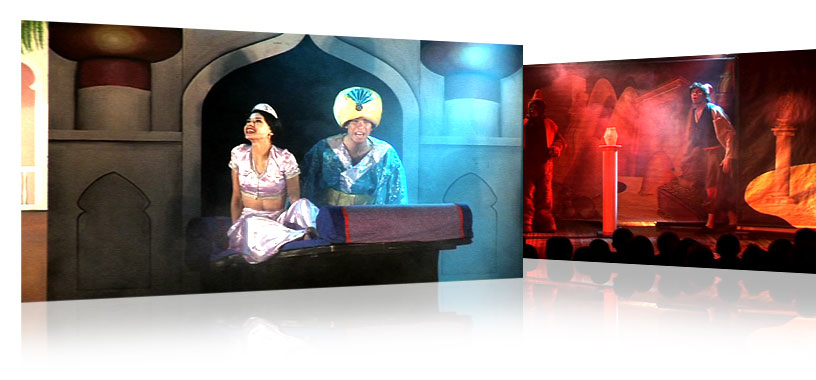 More Performers
Six cast members in movie-length, musical rock concerts.
Large, changing theatrical sets.
The shows look like any big stage show at a theatre – in your school.
Cheaper, easier and a pleasure to experience.
We'll spend time with your students.
We find that students are inspired to not only follow our example of living life to the full, having fun and being your best, but also to find new ways to be even more creative and passionate. Our shows have an impact far beyond the performance, and we always are amazed at the details of the event remembered by students when we return in subsequent years.
We'll do everything for you.
On the day, the cast of six performers will create theatre for you, before your very eyes. You will be amazed at how we are able to set up a full theatrical experience so quickly right in your school.
We'll give you support.
Even though our shows are priced competitively and far cheaper than a trip to a theatre with tickets and transport, we not only give you an amazing product on the day, we will be here to support you in making a decision, scheduling a date, and any other issues that arise for you.
We'll help you teach.
All shows come with extensive teacher support and curriculum relevant material that you can use to make the most of the event. Packs that are applicable to both before and after the show are available on the website once you register.
Pricing
Flat Rate Pricing
+ GST
For schools with less than 150 total enrolment. Whole school P-6 must attend.
Per Student Pricing
+ GST per student
Price per student (min audience 115 students). For less than whole school bookings.
Per Student Pricing
+ GST per student
Price per student (min audience 150 students). Whole school P-6 must attend. Price for first time booking or non-annual subscription
also price for annual subscription for less than whole school bookings.
Per Student Annual Subscription
+ GST per student
Price per student (min audience 180 students). Whole school P-6 must attend and you must prebook 3 separate shows over 36 months. This is also our rebooking rate if you rebook on the day of your show and subscribe for annual visits.
*If you don't agree that our shows are the best you can get in schools, we will give the show to you for free.