Sometimes we lose sight of the true meaning of the holidays with all the gifts and commercialism. Alpha's take on 'A Christmas Carol' shows how Scrooge's greed and focus on money is his weakness. Learn more
Based on Charles Dickins classic tale, this entirely original story uses the classic literature masterpiece as the basis for a new story about the true meaning of the holidays and family. Learn more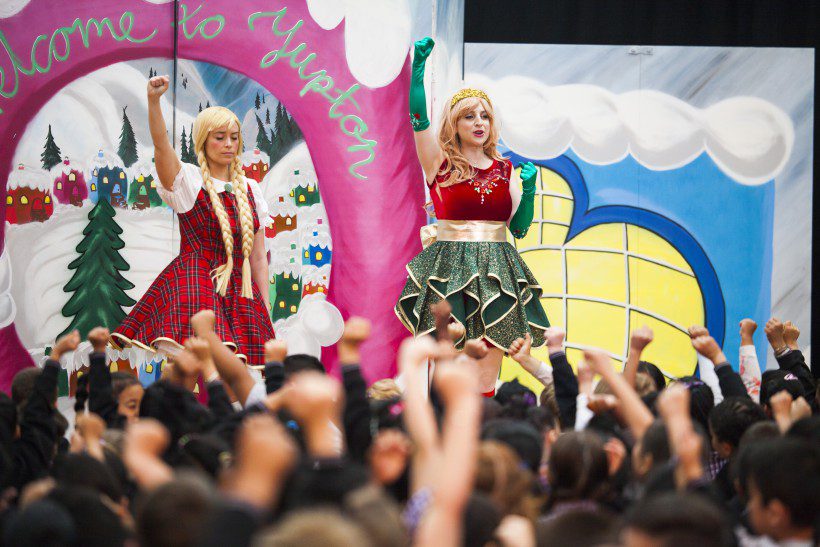 Another beautiful large set, custom made, including Scrooge's house and the town, with a huge backdrop. You'll never believe we could set up all this in 90 minutes! Read more
Our special Holiday show tours most holiday seasons! It is made to be a special extra show in addition to your main Alpha show! Learn more
About the Show
Alpha's Scrooge is an original story about the son of the original Scrooge in 'A Christmas Carol', who has had some bad experiences with the holidays and, with the help of the somewhat superficial members of the town, finds the real meaning of the holidays, about love, kindness and family. It's inclusive of all religions and holiday celebrations, so is appropriate for all types of groups of different and diverse backgrounds to experience!
Values Theme: TRUE MEANING OF THE HOLIDAYS
Information:
Want to have some fun these holidays whilst also learning how to go beyond the over-commercialisation of the silly season? This is the show for you!
Details for School Bookings
Modular set, about 8 metres wide. Height clearance of 4.5 metres for truss, can fit into a medium MPR, ideal venue a dark hall or gym
Suitability: Pre-Kinder to Year 6 in Primary Schools, Year 7 to Year 9 in High Schools
Duration: 70 minutes + Question Time / Set up time: 90 minutes
Space needed: 9m x 8m cleared space (MINIMUM)
Power: Single power outlet
Fog Machine: (optional) venue should have smoke detectors isolated
Show start: 9am or 2pm (for 1 show); approx 9:15am/11:30am (2 shows)
Cast arrive at 8am or 12:30pm
NOTE: Alpha does not take bookings for less than your whole school (P-6) as our shows are designed for all of primary school aged children. We will make one exception if it is the first time at your school, but the price is $15 + GST per student.
Flat Rate Pricing
+ GST
For schools with less than 125 total enrolment. Whole school P-6 must attend.
Per Student Pricing
+ GST per student
Price per student (min audience 125 students). Whole school P-6 must attend.
Per Student Pricing
+ GST per student
Price per student (min audience 150 students). Whole school P-6 must attend and you must prebook 3 separate shows over 36 months. This is also our rebooking rate if you rebook on the day of your show for an annual visit
Conditions of Booking
A booking deposit of $400 applies at time of booking to secure you a place in our schedule to obtain a date assignment. It does not lock in other details (like audience size). Alpha does not take bookings without a deposit.
A specific date and time cannot be guaranteed (even if you have paid a deposit); although we will work with you to find the best time suitable. Booking deposits do not secure dates, but a place in our schedule, which will continue to be a floating booking until we find you a date that is mutually acceptable.
The booking deposit is NON-REFUNDABLE under any circumstances
A cancellation fee of $500 (per show/day) in addition to the booking deposit applies to all cancellations received up to 7 days before show.
PLUS other conditions, click link to read full terms