Like the fairytale, the story looks at how our negative or positive perceptions alter our thoughts and emotions and either support or prevent us from coming into alignment with everything we want to create and our own potential. Learn more
We went right back to Hans Christian's version and looked at what he was really trying to express. One of the most beloved fairytales of all time, now with the magic of an Alpha Show! Learn more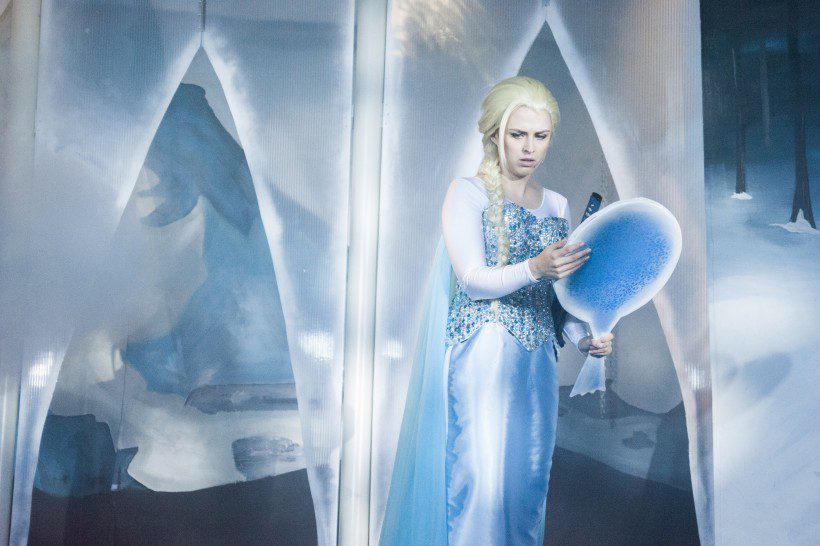 Another beautiful large set, custom made, including Elsa's creation, her Ice Palace. You'll never believe we could set up all this in 90 minutes! Read more
This is one of our most daring stories yet. Packed with well known characters and some brand new Alpha inventions, empowering women and epic samurai work. We can't wait for you to see our latest creation! Learn more
About the Show
Alpha's The Snow Queen humourously and powerfully captures the magic of what is Hans Christian Andersen's classic tale of adventure and lessons about the need to stay in alignment with feeling good and seeing things as they are, not worse than they are. Whilst our version does not follow the same adventure as the fairytale, the themes and characters are used to progress the story along as well as combine the expectations from the most popular adaptation of this story by Disney in their smash hit movie, 'Frozen'.
This story and these characters are super popular, however, we had to find the reasons for why Alpha should tell the story, to take the lessons of the fairytale and include them along with some of the broader themes introduced by Disney – and then take them further to empower a new generation in the skills for how to 'align with your potential', to move past fear and into courage, to become all of who you are. We also knew we wanted to tell a story about the power of love that is not related to romantic love, indeed, it is the power of the love between two sisters that ultimately leads to redemption for all.
These powerful metaphors move us at a deep level beyond what we consciously perceive. The show also has a great pace and energy, with lots of standard Alpha gags that audiences love and some new comedy that we've never tried before! With some familiar and some very original Alpha characters in the show, such as the much beloved Snowman Festy, Bac the Reindeer as well as other characters new and old, we know you'll find the whole show hilarious and entertaining! Plus, in our version, we've included additional powerful female figures from the fairytale, including the 'Clever Princess' who guides Elsa and Anna and teaches them how to be powerful on their own, and of course, a villain that represents temptation and negative influence that often is quite palpable in our lives today – the actual Snow Queen.
Values Theme: ALIGNMENT & COURAGE
Information:
Elsa finds herself with powers that she can't control, and is scared to be herself and use them. As a result, she suffers from being 'out of alignment' with that which you wish to create and the experiences she desires. Her sister Anna, through courage and strength, goes on an adventure that mimics her own mother's journey years ago (from the fairytale) to save her sister and help her come into alignment with her potential. The 'Clever Princess' teaches Elsa the way to focus your thoughts to stay in alignment so as to not manifest everything you don't want, and as a result, she and Anna save each other and Elsa becomes the 'One True Queen' after defeating the contrast experience personified by the 'Snow Queen'.
Details for Theatres
Suitable for all audiences, families work well, age 4 upwards to age 16+
Modular set, 10 metres wide, height 4.2m. Snowy Mountains, Cottage, Elsa's Ice Palace, Arendelle Town Square. Fits perfectly on a stage, connects to wings.
Price for 1 show $2000 + GST (max audience 250)
Price for 2 shows $3100 + GST (max audience 400)
Details for Schools
Modular set, about 9 metres wide. Height clearance about 4.2 metres
Suitability: Prep/Kinders/Pre-school to Year 6 in Primary Schools, Year 7 to Year 12 in High Schools (we can adapt show for older audiences)
Duration: 90 minutes + Question Time / Set up time: 90 minutes
Space needed: 10m x 10m cleared space (MINIMUM)
Power: 3 phase OR 2 power points on separate circuits
Fog Machine: venue must have smoke detectors isolated
Snow Machine: no special preparation needed
Show start (approx): 9:15am or 1:45pm/1:30pm (for 1 show); 9:15am/11:30am (2 shows)
Cast arrive at 7:45am or 12pm
Flat Rate Pricing
+ GST
For audiences of 100 or less
if the entire school community (all students) are attending.
Flat Rate Pricing
+ GST
For audiences of 100 or less
if only a few grade levels are attending
Per Student Pricing
+ GST per student
Price per student (min audience 100 students)
if the entire school community (all students) are attending
Per Student Pricing
+ GST per student
Price per student (min audience 100 students)
if only a few grade levels are attending
Per Student Pricing
+ GST per student
Price per student (min audience 125 students)
if the entire school community (all students) are attending and you prebook 3 separate shows over 36 months
Conditions of Booking
A booking deposit of $400 applies at time of booking to secure you a place in our schedule to obtain a date assignment. It does not lock in other details (like audience size). Alpha does not take bookings without a deposit.
A specific date and time cannot be guaranteed (even if you have paid a deposit); although we will work with you to find the best time suitable. Booking deposits do not secure dates, but a place in our schedule, which will continue to be a floating booking until we find you a date that is mutually acceptable.
The booking deposit is NON-REFUNDABLE under any circumstances
A cancellation fee of $500 (per show/day) in addition to the booking deposit applies to all cancellations received up to 7 days before show.
PLUS other conditions, click link to read full terms