All children (and sometimes grown ups) struggle with getting what they want out of life. This show will put the audience on the right path to discovering their own innate wisdom of manifesting their dreams. Learn more
The genie will show you the secret to getting what you want – literally, he is the genie of the universe – whatever you wish for the universe will grant. Learn more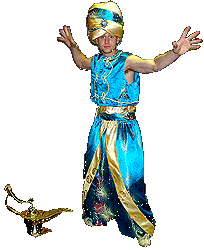 Remade in 2022 as well, with a story that honours the original tale and its origins, and addresses the issues with western influence and control over other cultures.
There's still the story that everyone is familiar with, and characters both new and old. You'll love how we've modernised and Alpha-ised our version. Learn more
About the Show
Alpha's Aladdin is a spectacular musical rock concert for children and grown ups of all ages. The show brings together the classic tale with a hilarious modern take, culturally appropriate storytelling and casting, as well as integrating magical and important messages that help to raise understanding and awareness in all audiences.
Bring children and grown ups from any background or of any age to help them grow in their love for theatre, comedy and life as well as the magic of manifesting their dreams!
Imagine the power of learning this skill of how to really create your life the way you want it! It's very exciting! This isn't some new age rubbish about using your mind to attract what you want. The show instead looks at what blocks people from their dreams – their unhealed emotional injuries from their environment. As a homeless boy on the street, we can use Aladdin as an example of how to overcome adversity even from the lowest of existences.
The show builds on from the other shows – now that you've let go of things that don't serve you, like limiting beliefs about yourself or the pain of your past, now it's time to get going and manifest what it is you want out of life!
Values Theme: ACHIEVING GOALS & HONESTY
Outcome: To bring an understanding of how to move on from the hardships of the past and make your dreams come true – in reality.
Information:
The idea of just 'imagining what you want' every night and magicaly getting it isn't real. Of course, the Genie is a fun way to explore the 'what if' of that scenario, but Alpha believes in HARD WORK and setting goals. But behind all that – what if you felt deep down that you were worthless or a nobody? Do you think you'd want to go after what you want? Doubtful. If we can take a few steps towards showing the children something they already know inherently, that they deserve to have all of their dreams, think of how wonderful life would be, and how life's bumps would seem less potent. This is the promise of learning about how to make wishes, from the heart – not from the head. If you be truthful to yourself and others, and face up to whatever you have to about yourself, whatever you don't like, then you can let go of some of your old concepts of yourself and truly start to make life magical!
Alpha's Aladdin accomplishes this introduction to one of the secrets to the universe. It does it so that children can get an experiential feeling of what it means to truly wish for things or whatever you want in life, and actually move towards getting it, instead of living a life believing 'only lucky people get what they want'. Download Curriculum Documents
Details for School Bookings
Modular set, about 8 metres wide. Height clearance of 4.5 metres for truss, can fit into a medium MPR, ideal venue a dark hall or gym
Suitability: Pre-Kinder to Year 6 in Primary Schools, Year 7 to Year 9 in High Schools
Duration: 70 minutes + Question Time / Set up time: 90 minutes
Space needed: 9m x 8m cleared space (MINIMUM)
Power: Single power outlet
Fog Machine: (optional) venue should have smoke detectors isolated
Show start: 9am or 2pm (for 1 show); approx 9:15am/11:30am (2 shows)
Cast arrive at 8am or 12:30pm
Pricing
Flat Rate Pricing
+ GST
For schools with less than 150 total enrolment. Whole school P-6 must attend.
Per Student Pricing
+ GST per student
Price per student (min audience 115 students). For less than whole school bookings.
Per Student Pricing
+ GST per student
Price per student (min audience 150 students). Whole school P-6 must attend.
Per Student Annual Subscription
+ GST per student
Price per student (min audience 180 students). Whole school P-6 must attend and you must prebook 3 separate shows over 36 months. This is also our rebooking rate if you rebook on the day of your show and subscribe for annual visits.
Conditions of Booking
A booking deposit of $400 applies at time of booking to secure you a place in our schedule to obtain a date assignment. It does not lock in other details (like audience size). Alpha does not take bookings without a deposit.
A specific date and time cannot be guaranteed (even if you have paid a deposit); although we will work with you to find the best time suitable. Booking deposits do not secure dates, but a place in our schedule, which will continue to be a floating booking until we find you a date that is mutually acceptable.
The booking deposit is NON-REFUNDABLE under any circumstances
A cancellation fee of $800 (per performance) in addition to the booking deposit applies to all cancellations received up to 11 days before show.
PLUS other conditions, click link to read full terms